Love urban fantasy? Then be sure to check out the Blood and Magic series!
Keep Reading for more info and my review of the third book in the series, Burned by Fire!
Plus, there are free downloadable bookmarks available!
About the Book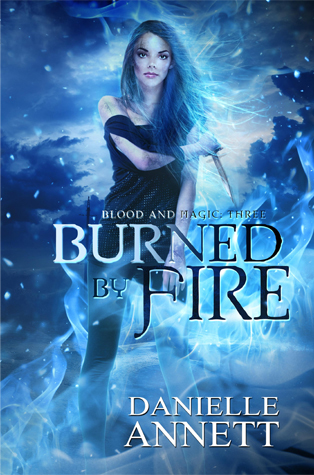 Burned by Fire
Blood and Magic #3
Genres: New Adult, Urban Fantasy, Magic, Vampires
Publication date: September 30th 2016
Aria's pyrokinetic ability has always been hard to control, and being pulled in so many directions, isn't making it any easier.
Now she has to help Inarus, a foe turned friend who is being targeted by the Human Alliance Corporation-the very organization he once worked for.

But the HAC has more than just Inarus in their sights. Aria finds herself going deep into enemy territory to save a witchling child with never before seen powers, that the HAC has kidnapped to further their own ends.

Aria has been hired to save a child once before, and she failed. That failure has haunted her even to this day and she wonnt let herself fail again. With the HAC closing in, and complications between herself and the Pack rising, Aria has no choice but to succeed. A child's life is on the line and Aria will risk everything to save that life.
About the Author
Author Biography
Danielle Annett is a reader, writer, photographer, and blogger. Born in the SF Bay area, she now resides in Spokane, WA, the primary location for her Blood & Magic series.
Addicted to coffee at an early age, she spends her restless nights putting pen to paper as she tries to get all of the stories out of her head before the dogs wake up the rest of the house and vye for her attention
Website
Facebook
Twitter
Goodreads
My Review
Title:
Burned by Fire (Blood & Magic Book 3)
Author:
Danielle Annett
Format:
Digital ARC
Source:
Bookmarks & Tours Blog Tour
With the fascinating urban fantasy Burned by Magic, we once again return to Danielle Annett's world of Blood & Magic.
In the world of Blood & Magic, paranormal beings have integrated into society. Along with humans you'll find vampires, shifters, mages, witches, and more. But as with the previous two books, things aren't going all that smoothly. Speaking of the previous books, Cursed by Fire and Kissed By Fire, I highly recommend you read both of them first so you can understand and appreciate this story fully. I'm going to try my best not to spoil anything from any of the books here in my review, but it will be difficult because they are all so connected.
Following the events of the first two books, Burned by Magic finds pyrokinetic Aria struggling to adjust to her new reality while still running Sanborn Place, a paranormal mercenary firm. She also must protect a former enemy as well as herself while trying to figure out the Human Alliance Corporation's endgame. To complicate matters even further for Aria she must deal with some rather tense relationships throughout the book.
We get to see many of the familiar faces from the previous books as well as meet a few new ones. I love the characters in this story and feel for Aria because she has so much on her young shoulders. And on top of someone being after her and wishing to harm her, she has to deal with complicated relationships with the males in her life. It'd be almost too much for a normal person to handle so it's a good thing that Aria is anything but ordinary.
Danielle Annett has created a fascinating world filled with intriguing characters that I would love to know even more about. The PSY abilities and different types of paranormals were quite interesting. I love the variety of characters throughout the story. It seems like you discover something new about the rules and characters of this urban fantasy world with each page.
And while it does answer some questions from previous books, the story almost felt too short, really. I wanted more of this world and characters. I eagerly look forward to what the author has in store for Aria and her friends.
My Rating: 4 Stars
*I received a free digital ARC in exchange for my honest review.*