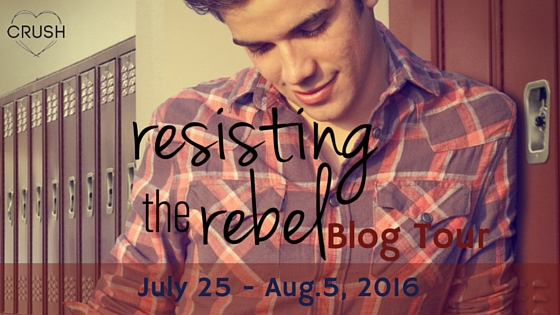 Today I am part of the Resisting the Rebel Blog Tour!
Check out my review below along with a giveaway and more info about the book!
Title:
Resisting the Rebel
Author: Lisa Brown Roberts
Format: Digital ARC
Source: NetGalley
Opposites attract in this super cute contemporary YA by Lisa Brown Roberts. Cheerful Mandy wishes her crush would pay attention to her. Brooding Caleb wishes his ex would just move on and leave him alone. So how do you kill two birds with one stone? By faking a relationship with each other, of course. I mean, what is the worst that could happen? I couldn't wait to see and I wasn't disappointed! This book is so good!
I think the characters are what I liked the most about this book. The author did a fantastic job creating relatable and believable characters who find themselves in an interesting predicament.
'70s-loving Mandy is fabulously quirky and not really afraid to be herself. She walks to the beat of her own disco tune, so to speak, which I love to see in a character. She has been through a lot in her life and still struggles with quite a bit, but tries her best to hang on to her positivism.
And Caleb! Caleb, Caleb, Caleb…where can I find me a Caleb? A edgy loner who loves books, writing, and dreams of having a big library!?!?!? Plus, he has a great sense of humor and a good heart! I want one!!
I loved how the relationship developed between the two main characters despite their differences. The author did a wonderful job of showing these differences without being too blatant about it, which I appreciated. Mandy and Caleb complemented each other and I could sense their chemistry through their interactions.
So if you are looking for a quick, fun YA contemporary read, I would definitely recommend you check out this one! Even if it's just to sigh over Caleb.

I received a digital arc of this book in exchange for an honest review.
Now here's some more detailed info about Resisting the Rebel and its author Lisa Brown Roberts...
If you've ever seen the movie Sky High and always thought that Layla should've ended up with "bad boy" Warren, then you don't want to miss Lisa Brown Roberts' Resisting the Rebel. Were you a fan of her September 2015 novel, Playing the Player, then trust me when I say you will also not want to miss this swoony, contemporary YA romance. Seriously.


Disclaimer: This book contains a villain pretending to be a hero, a hero pretending to be a villain, a disco-dancing heroine, two overprotective sidekicks, a little bit of bad language, and a whole lot of swoony kissing.
Spirit committee leader Mandy Pennington is secretly in love with her best friend, Gus, but when he hooks up with her archenemy at a party, she decides to win him over once and for all. She just doesn't know how. But who better to help than hot loner Caleb Torrs?
Caleb's got his own problems, but when he sees Mandy pining over Gus at a party, he thinks she's finally smoked the spirit stick and lost her mind. Maybe he has, too, because he just asked Mandy to be his fake girlfriend. She'll get her loser friend's attention, and he'll get his stalker ex off his back. It's a win-win.


But soon one fake date blends into the next and before he knows it, he actually wants to kiss Mandy. For real. Too bad their plan is working, and Gus is finally noticing the one girl Caleb just might be falling for…
Lisa Brown Roberts still hasn't recovered from the teenage trauma of nearly tweezing off both eyebrows and having to pencil them in for an entire school year. This and other angst-filled memories inspire her to write YA books about navigating life's painful and funny dramas, and falling in love along the way.
Her almost forever home is Colorado, though she occasionally pines for the days when she lived within walking distance of the Pacific Ocean. Her house is full of books, boys, four-legged prima donnas, and lots of laughter.
Now for the giveaway!
The prize: A paperback copy of Resisting the Rebel, a Red Ranger action figure, a Rainbow Pony, and a Mood Ring.
a Rafflecopter giveaway
Please return to this site each day to celebrate the release of this book and follow along with the blog tour from July 25-Aug. 5, 2016!